The Breeze became an instant favorite when she joined Carnival's fleet in 2012 as the "ultimate family cruise ship." She accommodates up to 4,891 passengers at maximum capacity and is consistently a top choice for 6-9 day voyages to the Caribbean. In 2017, this mega ship was refurbished to incorporate Carnival's latest fleet-wide features — keeping the ambiance fresh and fun. The Carnival Breeze will be sailing from Port Canaveral until the end of April 2021, so be sure to take advantage of her affordable sailings before Galveston becomes her new home!
Carnival Breeze Onboard Activities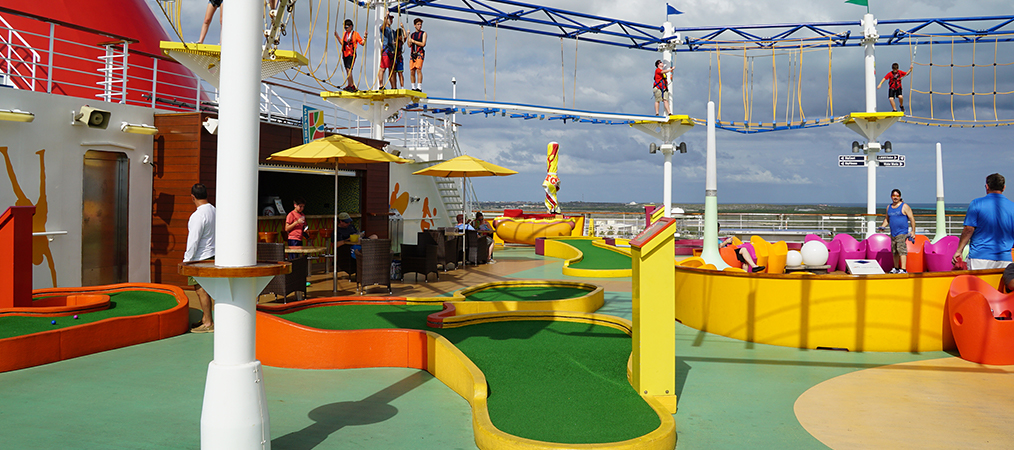 There's something for everyone on the Carnival Breeze. Outside you'll find athletic activities like mini golf, a ropes course, several sports courts, 3 pools, and a 320-foot water slide! If the weather isn't in your favor, there are still plenty of fun things to do indoors. A fully-stocked video arcade, 4D movies at the Thrill Theater, and a Build-A-Bear Workshop at Sea are just a few highlights. Carnival has also partnered with Dr. Seuss to offer Green Eggs and Ham character breakfasts, a special parade for the little ones, and more. Don't miss out on films under the stars with Dive-In Movie nights. Carnival supplies the popcorn and blankets, so all you have to do is get comfortable.
Keep in mind that Carnival provides supervised youth programs aboard the Breeze like Camp Ocean, Circle 'C' and Club O2 to keep toddlers to teens occupied throughout the day. This gives parents the opportunity to explore areas on the Breeze exclusive to them. Consider the Cloud 9 Spa a shrine of relaxation, complete with massages, facials, body wraps, thermal suites, and even a Thalassotherapy Pool. If you need a vacation within your vacation, the Serenity Adult Only Retreat has you covered. Here you'll find plenty of daybeds, cabanas, lounge chairs, and whirlpools alongside some of the best views of the sea. Drinks are available for purchase at the nearby bar, but the peace and quiet is absolutely priceless.
Entertainment on the Carnival Breeze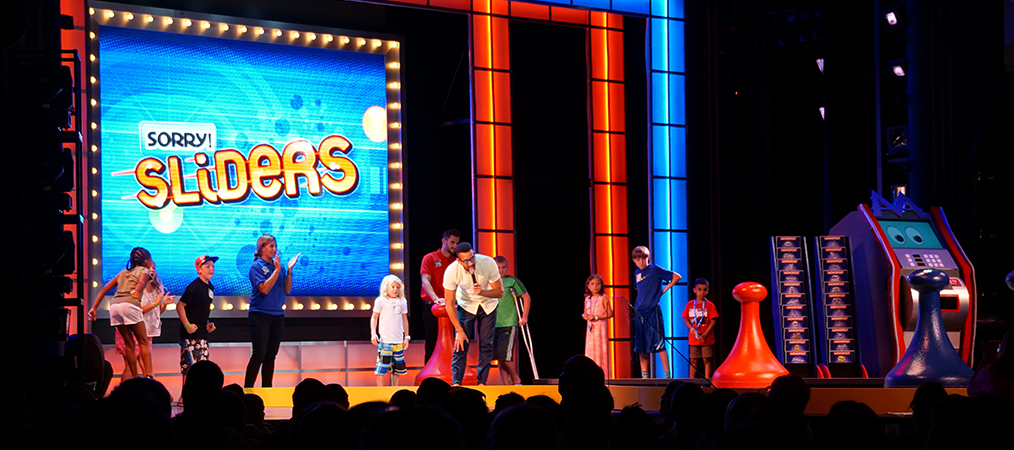 On the Carnival Breeze, the fun stays up even when the sun goes down! End the night cracking jokes at the Punchliner Comedy Club, playing larger-than-life versions of your favorite board games at the Hasbro The Game Show stage, or taking the spotlight during Carnival's Lip Sync Battle. More entertainment can be discovered at Playlist Productions, where your favorite hits are brought to life in show genres for every music-lover.
Carnival Breeze Dining and Bars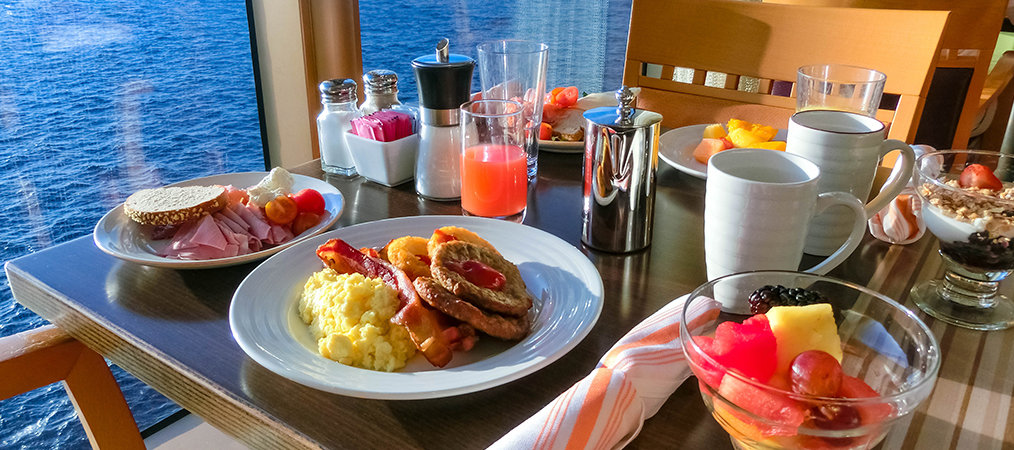 When it comes to casual dining, Carnival Breeze exceeds expectations. Feast on endless rotating options at the buffet and main dining room, or take on crowd-pleasers like Seafood Shack, Bonsai Sushi, and the notorious Guy's Burger Joint. Speaking of Mr. Fieri, you'll also want to try his second signature spot, Guy's Pig & Anchor Bar-B-Que. And when you're craving Mexican fare, BlueIguana Cantina gives you the freedom to customize tacos and burritos to your liking.
For guests seeking a once-in-a-lifetime dining experience, let the Chef's Table spoil you with a multicourse meal hosted by the ship's Master Executive Chef. Other elegant eats can be enjoyed at Carnival's classic Steakhouse or Cucina del Capitano when you're craving Italian cuisine.
The bar scene on the Carnival Breeze is lively and diverse. When seeking an antidote for the relentless fun you'll be having, let the Alchemy Bar's pharmacists prescribe you an alcoholic elixir, or fill out your own "prescription" for a custom concoction. On the Lido deck, dueling venues BlueIguana Tequila Bar and RedFrog Rum Bar sit on opposite sides of the ship serving poolside tropical treats all day. You can also call the shots and the tunes at the beloved Piano Bar, where late-night jam sessions are elevated by piano players taking song requests.   
If you're looking to have a week-long adventure on an energetic and family-friendly ship, book a vacation on the Carnival Breeze!
Port Canaveral Travel Tips
After booking your cruise, don't forget to reserve the best hotel packages, transportation, and parking for Carnival Breeze cruises out of Port Canaveral. More than 211,372+ Carnival cruisers have trusted Go Port to take care of their pre and post Port Canaveral cruise needs. Check out what arrangements other Breeze cruisers are reserving and why:
Transportation
Go Port's cruise shuttle transportation costs only $29.99 per person, each way compared to Carnival's price of $35.95 — saving you 17% on cruise transfers from the airport! Our luxury coaches run regularly between the Orlando Airport and Port Canaveral to get you to your terminal and back.
Hotel Packages
If you're flying or driving in early for your Carnival Breeze Port Canaveral cruise, Go Port offers affordable hotel packages that take care of everything you need ashore. Our Fly Snooze Cruise packages include a hotel stay, round-trip airport transportation, and cruise transfers for one low price. Our Snooze Park Cruise packages include a hotel stay, cruise parking, and round-trip cruise transfers. Choose from more than 30 Orlando and Port Canaveral area brand-name hotels!
Parking
Don't get stuck paying $136 for parking at the port. With Go Port, you can arrange up to 15 days of cruise parking with air-conditioned shuttle transfers to your ship and back to your vehicle starting at just $60. Our parking plaza is paved, lighted, gated, and located just 5 minutes from the Port Canaveral cruise terminals.
Get the Inside Scoop from Go Port
Stay up-to-date with the latest Port Canaveral cruise news and travel tips!