Updated on September 15, 2020 — Photo by TalkingCruise
Royal Caribbean's Harmony of the Seas has been exceeding expectations since her first voyage. After the success of her Oasis-class sister ships, the Oasis and Allure of the Seas, the Harmony debuted in May 2016 — shocking the world with her size and beauty. As of 2019, she is considered the second largest cruise ship in the world, accommodating up to 6,780 passengers. All who have had the pleasure of sailing on the Harmony can agree that she is truly a floating village, equipped with an array of unique attractions, dining options, and places to unwind onboard. It's no wonder the Harmony of the Seas was given the title "Best Cruise Ship" in Travel Weekly's 2018 Readers' Choice Awards.
After three years of being positioned in Fort Lauderdale, the Harmony of the Seas now calls Port Canaveral her home. She replaced her older sister, the Oasis of the Seas, and offers cruises to the Caribbean and Royal Caribbean's brand new private Bahamian island — Perfect Day at Coco Cay.
Top Features on Harmony of the Seas
Aquatic Activities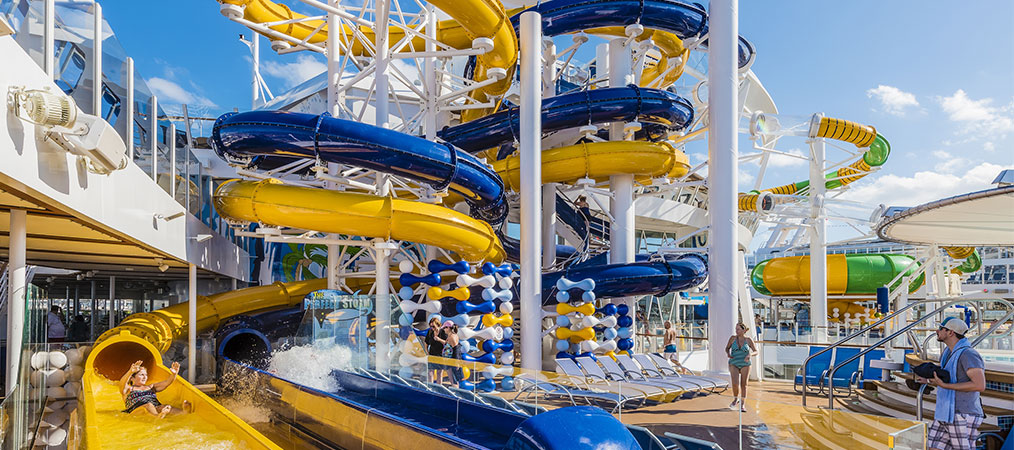 There's no shortage of aquatic activities onboard the Harmony of the Seas. For those feeling competitive, dual water slides Typhoon℠ and Cyclone℠, otherwise known as The Perfect Storm℠, allow riders to zoom through three stories of twists and turns. If that's not enough, the Harmony also features not one, but two of Royal Caribbean's iconic surf simulators, known as FlowRiders®. Little cruisers are not excluded from the aquatic fun. Splashaway Bay℠ is the Harmony's water park designed just for the kids, complete with mini waterslides, fountains, a drench bucket, and water cannons.
Thrills On Board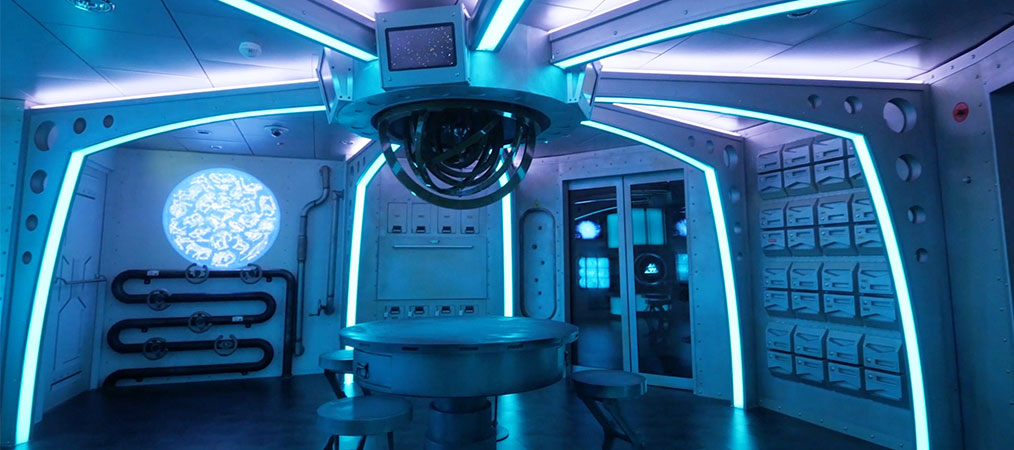 If staying dry is more your "thing," don't worry. There are so many adventurous activities aboard Harmony of the Seas that don't require a swimsuit. The Ultimate Abyss℠ slide is a feat only for the bravest of cruisers. Reaching more than 10 stories into the air, it's actually the tallest slide at sea. Thrill seekers can also get their adrenaline fix on the Harmony's own zipline. For no additional cost, cruisers can take their turn gliding in the open air from Decks 15 to 16 above the Boardwalk® below. Mystery addicts get a kick out of Harmony of the Seas' escape room, Escape the Rubicon. This 60-minute group challenge gives participants an hour of puzzle solving and clue searching in an attempt to break free of the Rubicon's hold.
Classes for the Masses
The best souvenirs are intangible. Always wanted to learn how to ballroom dance or make sushi like a professional chef? Royal Caribbean's Harmony of the Seas offers a wide variety of classes to participate in. Cupcake decorating, jewelry making, culinary, and dance classes are just a few options that teach cruisers new skills to utilize on land.
Tech Savvy
It turns out the Harmony is 20% more energy efficient than her sister ships, due to an innovative air bubble system that reduces friction below the ship's hull and keeps propeller noise to a minimum. When it comes to lighting on the ship, fluorescent and LED bulbs also save power and decrease the need for air conditioning. Royal Caribbean also provides the fastest wifi at sea with their high-speed internet service, called Voom℠ — the Harmony is no exception to this wifi.
Unforgettable Entertainment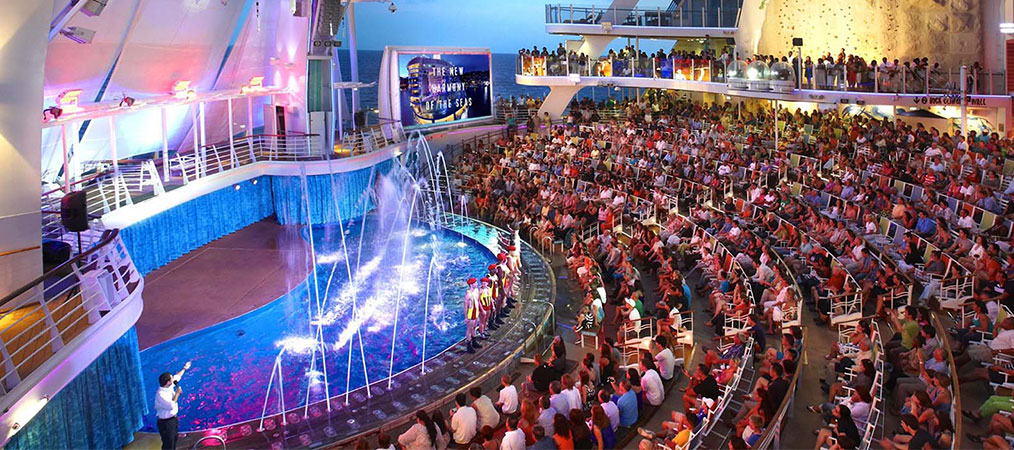 Entertainment on Harmony of the Seas is top notch. She's the first cruise ship to show the hit musical, "Grease" on Broadway. And just like her Oasis-class sisters, the Harmony features an AquaTheater. This outdoor trampoline and pool combination sets the stage for a variety of breathtaking acrobatic and aerial shows. There's also an ice skating rink where professional ice skaters from around the world showcase captivating choreography in costumes that are just as dazzling as their moves. For cruisers wanting to try the rink for themselves, there's no additional fee.
Divine Dining
Dining on the Harmony is an experience in itself. In conjunction with an assortment of complimentary dining options, there's a number of specialty venues for cruisers wanting something extra special. The Harmony of the Seas is Royal Caribbean's first Oasis-class ship to offer "Jamie's Italian" by British celebrity chef, Jamie Oliver. For adventurous cruisers that aren't in the mood for Tuscan-inspired cuisine, Wonderland Imaginative Cuisine is another highlight on board. This spot offers artistically-crafted dishes that are ideal for those craving a unique dining encounter.
Raising the Bar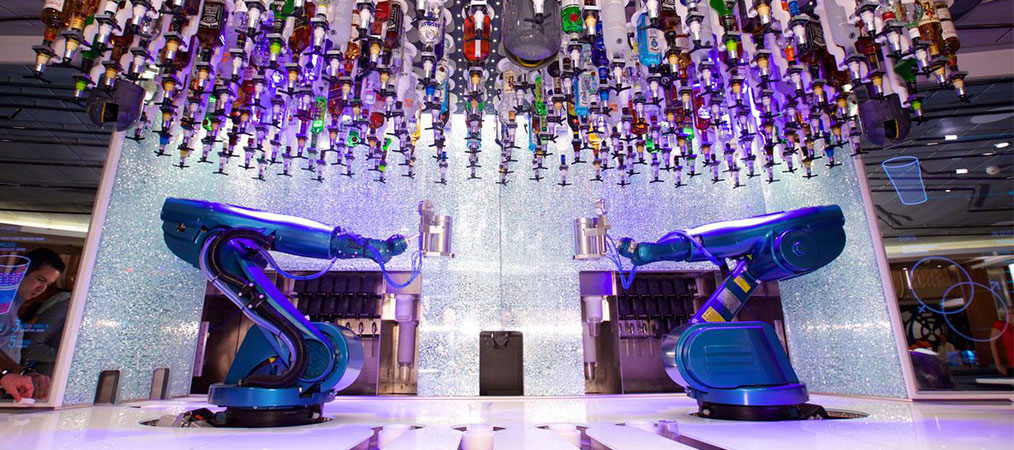 Raise a glass to technology because drinking on the Harmony of the Seas is a future phenomenon! Human bartenders are nowhere to be found at the Bionic Bar®, where two robotic arms are on standby to assemble cocktails for cruisers with laser precision. Custom orders are welcome. Simply order on the tablets nearby and let the bionic mixologists bring your creation to life. Also, all of the Oasis-class ships, including the Harmony, contain a floating bar that hovers between Decks 5 and 8. Skip the elevator and sip your way to the Royal Promenade while taking in the skylight views on the Rising Tide Bar.
Award-winning Accommodations
The Harmony's staterooms are the epitome of elegance and comfort. Cruise Critic voted her cabins #1 in the "Best Cruise Ship Cabin" category for large ships. Whether you choose to stay in an interior cabin or Royal Suite, the Harmony's cabins are the best place to rest your head between hours of exhausting fun.
Harmony of the Seas' Itineraries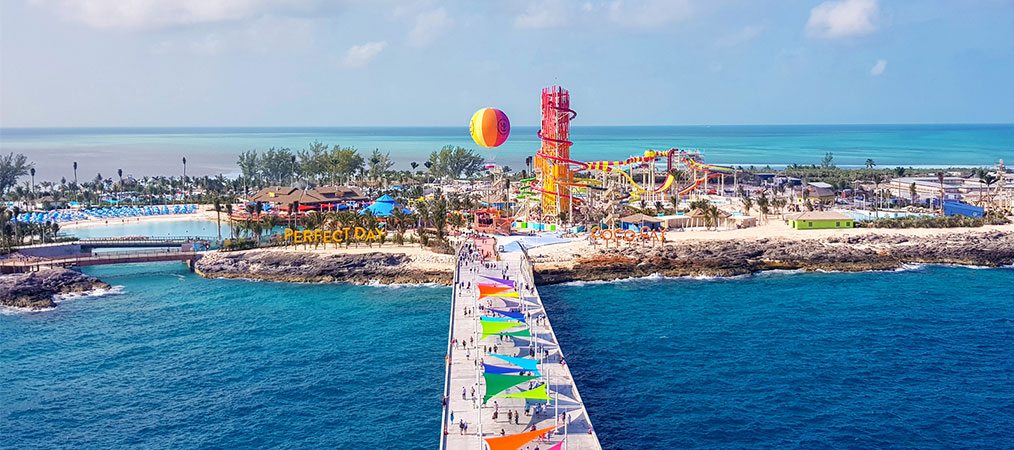 Since the completion of Royal Caribbean's long-awaited private Bahamian island, Perfect Day at Coco Cay, cruisers have been eager to explore the adventures ashore. What makes the island so special? The tallest waterslide in North America, the largest freshwater pool in the Bahamas, and a 459-foot high helium balloon ride are just a few buzz-worthy attributes.
As of May 2019, the Harmony of the Seas has begun offering 7-night cruises from Port Canaveral to the Western or Eastern Caribbean that include a stop at Coco Cay. There are multiple routes to choose from!
Western Caribbean Itineraries:
Coco Cay, Bahamas
Cozumel, Mexico
Costa Maya, Mexico
Roatan, Honduras

Eastern Caribbean Itineraries:
Coco Cay, Bahamas
St. Thomas, Virgin Islands
Basseterre, St. Kitts
San Juan, Puerto Rico
Philipsburg, St. Maarten
Completing Your Harmony of the Seas Cruise
Will you be sailing on the Harmony of the Seas from Port Canaveral? After booking your cruise, let Go Port take care of your travel needs on land! They'll make your hotel, transportation, and parking arrangements with ease, so you can enjoy your vacation to the fullest.
Harmony of the Seas Cruise Transportation
Go Port offers the lowest priced transportation between the Orlando Airport and Harmony of the Seas' cruise terminal. With transfers for just $29.99 per person each way, you'll save up to 20% compared to Royal Caribbean's price of $37.50!
View this Cruise Transportation Package
Harmony of the Seas Hotel Packages
Fly Snooze Cruise
If you're flying in the day before embarkation, Go Port offers a variety of Fly Snooze Cruise packages starting at just $138. Packages include a hotel stay, transportation to/from the airport and Harmony of Seas cruise transfers. Select packages even include breakfast.
View all Fly Snooze Cruise Packages
Snooze Park Cruise
If you're driving in the day before embarkation, Go Port offers a variety of Snooze Park Cruise packages starting at just $112. Packages include a hotel stay, cruise parking near Port Canaveral and Harmony of Seas cruise transfers. Select packages even include breakfast.
View all Snooze Park Cruise Packages
Harmony of the Seas Cruise Parking
Instead of paying by the day, get cruise parking included with the purchase of transfers from Go Port. Packages start at $60 per vehicle with 1 traveler, plus $5 for each additional traveler. Your total remains the same, whether you cruise three or eight days! Transfer shuttles pick up and drop off passengers right at the Harmony of the Seas' terminal.
View this Cruise Parking Package
Harmony of the Seas Fact Sheet
| | |
| --- | --- |
| Location Built: | Chantiers de l'Atlantique shipyard in Saint-Nazaire France |
| Sailing From: | Port Canaveral |
| Maiden Voyage: | May 29, 2016 |
| Weight: | 226,963 gross tonnage |
| Length: | 1,188 ft |
| Passenger Capacity: | 6,780 |
| Crew Members: |  2,300 |
| Itineraries: |  Western and Eastern Caribbean, Perfect Day at Coco Cay |
| Top Features: |  Over 20 restaurants, Best Cabins, The Ultimate Abyss, Bionic Bar, Escape the Rubicon, "Grease" on Broadway |
Get the Inside Scoop from Go Port
Stay up-to-date with the latest Port Canaveral cruise news and travel tips!