Freedom of the Seas is the ship that beat the Queen Mary 2 for the title of largest cruise ship.  It only held the title for three years before being beaten out by fellow Royal Caribbean ship Oasis of the Seas in 2009.  The Freedom is still a large ship, however.  Renovations in 2011 and a spell in dry-dock in 2015 have kept the ship fresh, and increased the number of cabins.
Staterooms and Suites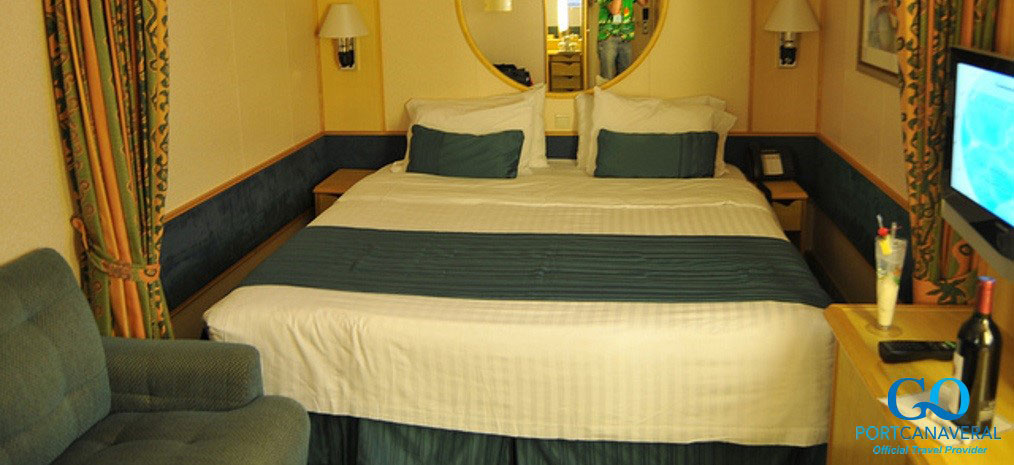 Deck 2 is the lowest deck with staterooms and while most cabins on this deck have nothing above them but more staterooms those towards the aft are near the propellers and below the ships main dining room.  This means that rear cabins on the second deck may experience propeller noise as well as noises from above during meals and during prep and clean-up times.
The third deck has the main dining room aft and  noise may spillover.  The On-Air Club is also on Deck 3 and cabins 3605 through 3617 have rear walls that directly abut it.  Although this club is closed during sleeping hours so this may not be an issue for most.  Of more concern is the Casino Royale, Schooner Bar, Focus night club, and Boleros bar directly above.  Which can and will make noise late into the evening.  On the other hand the relative closeness may count as a feature for some passengers.
Deck 5 is the host of the main promenade with retail outlets and shopping which can create noise on the sixth deck which hosts oceanview balconies and promenade view staterooms amidships.  Promenades and the staterooms who view it are a feature of Royal Caribbean ships and provide a view reminiscent of looking out over downtown Main Street on land.  Of special interest on this deck is the Ben and Jerry's Sweet.  A stateroom above the Ben & Jerry's Ice Cream parlor that has a spectacular view of the companies bovine mascots and has an appropriately themed décor, that also comes with free ice cream on a per day basis.  A unique cabin for a unique, and sweet, cruising experience.  Also of interest on Deck 6 is the Presidential Family Suite aft.  A 1,200 foot cabin that can sleep 14.  It's sandwiched between 4 deluxe oceanview staterooms that may be able to get exceptional service from the suites cleaning and service staff without the expense of booking a suite.

Decks 7 and 8 are shielded from most of the ships high traffic areas of the ship by staterooms above and below, making these decks worth reserving for those who value quiet or privacy.  Promenade views continue on these decks making for an alternative to an interior stateroom, or a more expensive oceanview.  Of special note is the library on Deck 7.  Deck 9 is similar although lacking the promenade view in interior staterooms on the two decks below.
Deck 10 marks the beginning of the upper class region of the ship with an abundance of suites.  Of special note is the Royal Suite aft and to the port side.  Interior staterooms are available on Deck 10 and may offer superior service for the price.  Deck 11 is where passengers will find the spa and the pools, and Deck 12 offers deluxe and large oceanview staterooms across the corridor from the spas.  Of special note is the family ocean view staterooms on this level which are oddly shape and larger than the norm.  Rooms on this deck are a short walk away from the Lido deck, the Sky Bar, and other amenities.
Activities and Entertainment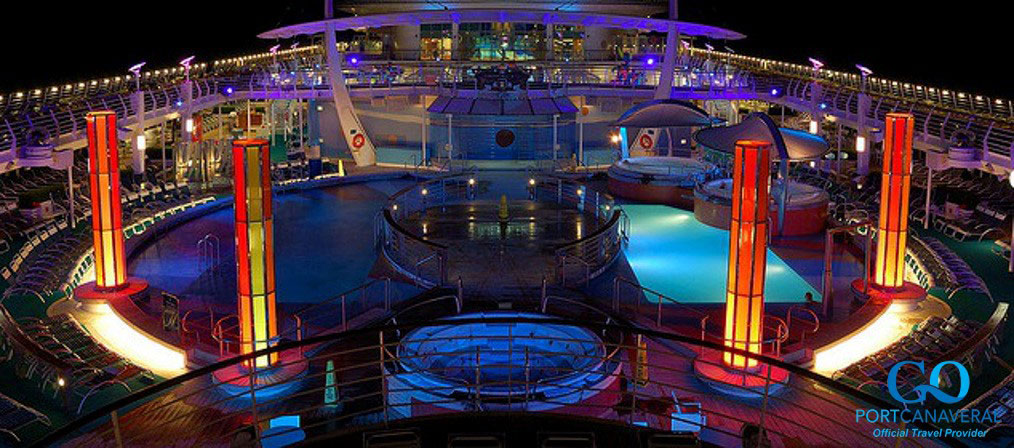 Onboard the Freedom of the Seas is notable for being one of the ships with DreamWorks' characters from movies like Shrek, Madagascar, and Kung Fu Panda aboard.  Royal Caribbean's promenade deck layout makes a great space for a parade and the characters feature prominently in a parade set to "Move It! Move It!" the musical number from Madagascar that everyone has heard.  DreamWorks' films are featured prominently in the ship's onboard entertainment too.
For live entertainment the Arcadia Theatre seats 1,300 people and offers song and dance routines from Royal Caribbean's own troupe.  There is a rock climbing wall and jogging track so you can stay active on sea days, and a number of pools and whirlpools to relax in.  Of special note-and fame-is the Flowrider wave pool.  A feature popular enough to carry over on succeeding Royal Caribbean ships and the only place to do a little surfing aboard ship.

Itinerary
The Freedom of the Seas sails 5 and 6 night Western Caribbean cruises and 7 night Eastern Caribbean cruises out of Port Canaveral.  It visits Royal Caribbean's private island CocoCay, Labadee Haiti, Falmouth in Jamaica, and George Town on Grand Cayman, before a final stop in Cozumel Mexico, and then returning to Port Canaveral.
It's an itinerary that notably skips Nassau and St. Kitts places that have in recent years started to be known as less than the best places for a port call.  CocoCay and Haiti are private resorts owned by Royal Caribbean which should make for a safe if touristy port call.  Falmouth is a newly built anchorage with a lot of restoration put into the town.  Cozumel is famous for being one of the most beautiful places to dive, and is home to important Mayan sites.  An excursion to Chichen Itza is available for those willing to go to the mainland.