Though 2020 left the cruise industry on hold, 2021 has future Port Canaveral cruisers feeling extra optimistic. With so many new features, like the all new Terminal 3, the addition of 2 major cruise lines, as well as the first ship powered by liquefied natural gas — there's plenty to look forward to. Whether you're looking to reschedule your 2020 cruise or deciding on a ship to vacation on in the future, you can count on Port Canaveral being home to some of the world's best cruise ships next year. Here are the top cruises from Port Canaveral for 2021:
Carnival Mardi Gras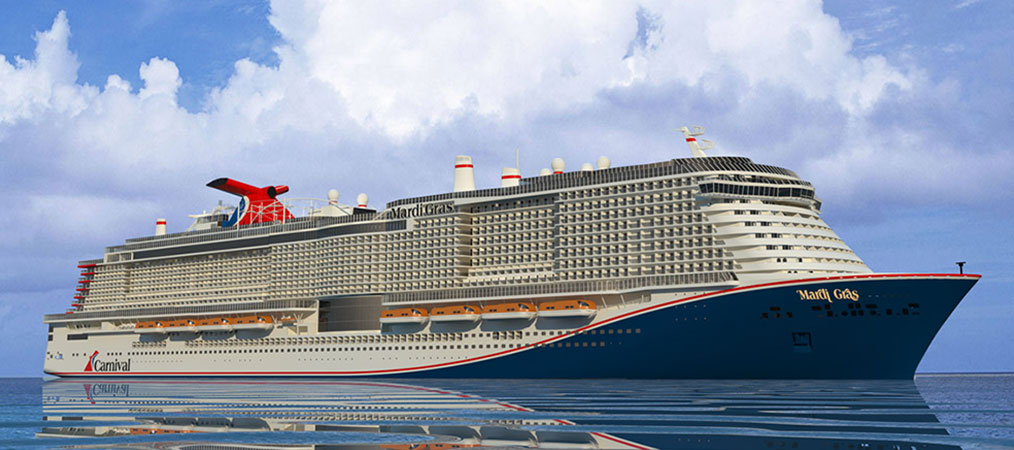 The Mardi Gras is expected to be well worth her delay, setting a new standard of innovation for Carnival Cruise Line when she makes her debut in February. She is known for her many "firsts" — Carnival's first XL-Class ship, the first roller coaster at sea, and the first cruise with an eco-friendly fuel source. On top of that, she has an entirely different look and layout compared to previous ships in her fleet. The Mardi Gras is so grand that Port Canaveral constructed a two-story Terminal 3 to welcome her arrival, which is in fact their biggest project to date.
Her six themed zones offer guests a variety of eating, drinking, and entertainment experiences onboard. Highlights include celebrity chef Emeril Lagasse's New Orleans inspired restaurant, Emeril's Bistro 1396, as well as Shaq's chicken joint fittingly named Big Chicken. And if you aren't feeling "too chicken", you'll want to check out BOLT, the Ultimate Sea Coaster where you can control the speed of your vehicle up to 40mph. Another Mardi Gras exclusive is Family Feud Live, where teams of five can participate in the iconic game show on an authentic set or watch from the audience instead for just as much fun.
For more information about Carnival Mardi Gras cruises out of Port Canaveral, as well as what hotel packages, transportation, and parking fellow cruisers are booking, click here.
Royal Caribbean Allure of the Seas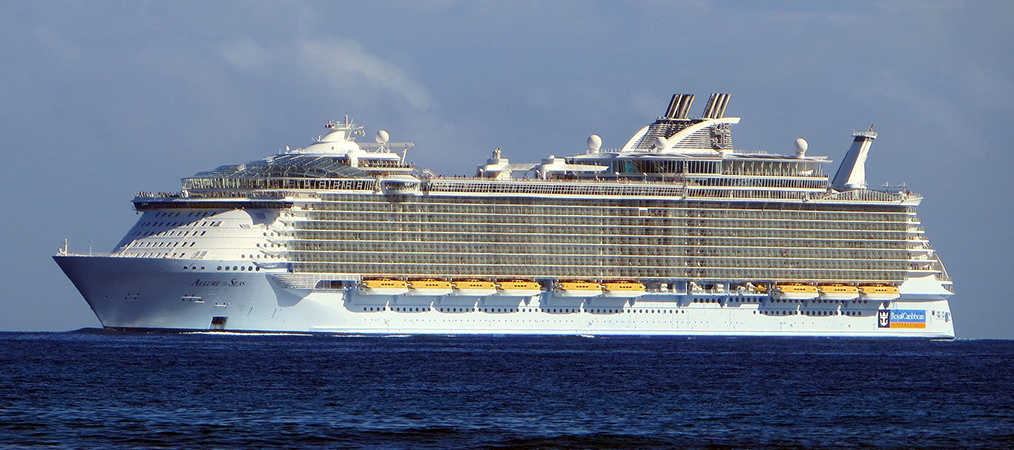 Allure of the Seas will be reunited with her sister ship, Harmony of the Seas in Port Canaveral this coming May. She is considered one of Royal Caribbean's largest ships, accommodating up to 6,780 passengers. Popular among couples and families, Allure of the Seas is considered the most awarded ship to ever exist. Best Individual Ship, Best Large Cruise Ship, and Best for Entertainment are just a few of the titles she's earned over the years.
Some activities you can expect on Allure of the Seas are ziplining, rock climbing, simulated surfing, ice skating, and plenty of drinking — since Allure of the Seas is said to have more bars than any other cruise ship. Feel free to also sing your favorite karaoke hits at On Air Club and don't forget to catch a show at the AquaTheater's outdoor pool stage.
With so much to do onboard, leaving the ship may not be your priority. However, you'll definitely want to get off at Perfect Day at Coco Cay, which is Royal Caribbean's private island that underwent a $250 million makeover in 2019. Here  you'll have an opportunity to experience the tallest waterslide in North America, the largest freshwater pool in the Bahamas, and even a 459-foot high helium balloon ride.
For more information about Royal Caribbean Allure of the Seas cruises out of Port Canaveral, as well as what hotel packages, transportation, and parking fellow cruisers are booking, click here.
Norwegian Escape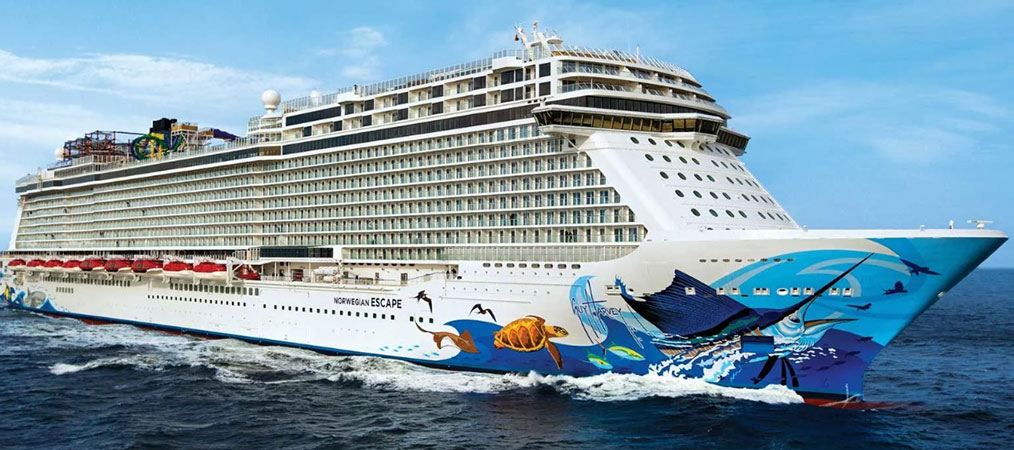 The Norwegian Escape is truly one-of-a-kind, with her hull art designed by the world's most well-known marine wildlife artist, Guy Harvey. This ship not only caters to both couples and families, but also welcomes solo travelers with features like studio staterooms and an exclusive lounge supplied with complimentary refreshments.
Many of the Escape's best restaurants and bars can be found while strolling down The Waterfront. This quarter-mile oceanside promenade is lined with open-air seating and the best views of the sea. In total, there are more than 25 places to eat as well as 14 bars and lounges on the ship. For laid-back drinking and dining, you'll want to check out Jimmy Buffet's two venues: the first-ever Margaritaville at Sea and the 5 O'Clock Somewhere Bar.
Activities on the Escape are endless, whether you're making a splash at one of the biggest Aqua Park at sea, navigating the 3-story Ropes Course, or even walking "The Plank". When the sun goes down, take advantage of Norwegian's exceptional entertainment options like their award-winning Broadway musicals in the theater and top-notch comedians at Headliners Comedy Club.
For more information about Norwegian Escape cruises out of Port Canaveral, as well as what hotel packages, transportation, and parking fellow cruisers are booking, click here.
Disney Dream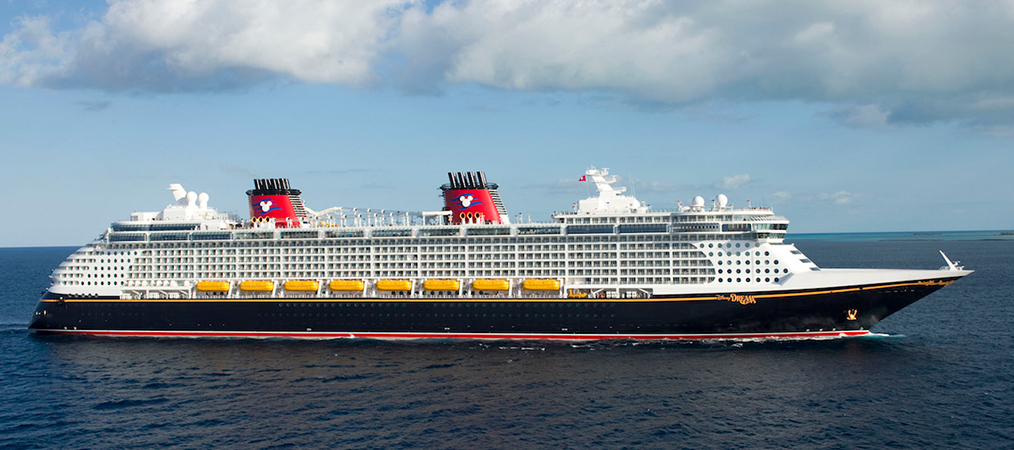 Ideal for families looking to experience the magic of Disney in 3-4 day voyages, the Disney Dream has been creating lasting memories since first setting sail from Port Canaveral in 2011. Between her elegant art deco interior design and attention to detail throughout, cruises on this ship are well worth the price tag. 
Disney Cruise Line's unique dining plan rotates guests through three different venues. Indulge in market-fresh flavors under a color-changing ceiling at the Enchanted Garden, French cuisine at the Disney Princess-inspired Royal Palace, and sophisticated fusion delights at Animator's Palate where your favorite characters come to life in surrounding wall decor.
Exclusive to kids from 3 to 12 years old, the Oceaneer Club on the Dream exceeds expectations with a Star Wars themed space encompassed by interactive panels and animated character props. However, there are adult-exclusive spots onboard as well, such as Senses Spa, Quiet  Cove Pool, and a handful of bars and lounges.
Don't leave the Disney Dream without taking a ride on the Imagineer-developed AquaDuck, a 765-foot raft slide complete with winding transparent tunnels. You'll also want to see at least one of Disney's unbeatable live shows, with favorites like Beauty and the Beast and Disney's Believe featuring an array of characters from their classic films. Don't miss out on the Pirate Night deck party. If the weather permits, you'll get to enjoy fireworks under the stars.
For more information about Disney Dream cruises out of Port Canaveral, as well as what hotel packages, transportation, and parking fellow cruisers are booking, click here.
MSC Divina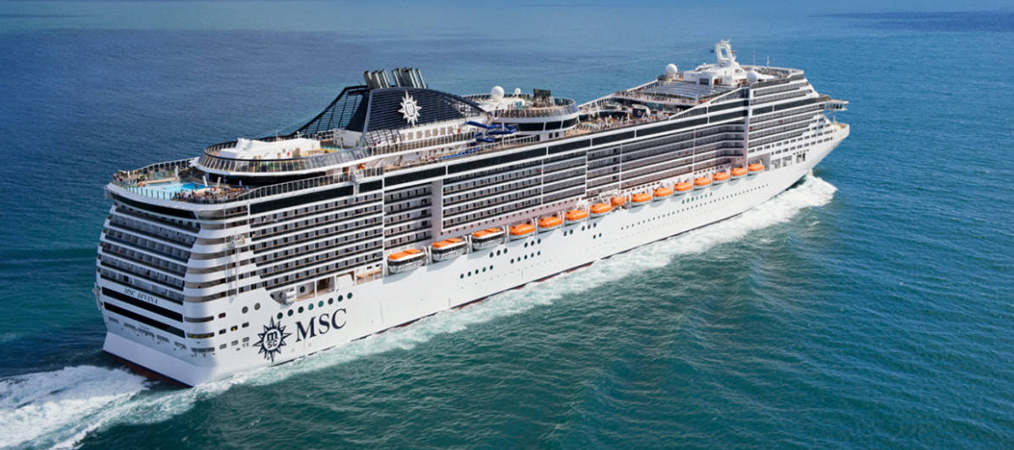 The Divina will be MSC Cruises' second ship to sail from Port Canaveral after taking the Seaside's place this coming spring. Inspired by Italian glamour with a modern twist, she's adorned with countless elegant touches like Swarovski crystal staircases, and red velvet furniture. Since the Divina pays tribute to the legendary actress Sophia Loren, you'll find her portraits throughout the ship as well as a replica of her dressing table in the suite she helped design.
More extraordinary features onboard are an infinity pool in the back of the ship, a fully immersive 4D theater, a Formula 1 race car simulator, as well as an exclusive Yacht Club considered to be a "ship within a ship." Member privileges include breathtaking suites with 24-hour butler service, private venues, and sophisticated dining options. 
Since the Divina is heavily influenced by Italian cuisine, you'll find some of the best gelato and specialty coffee creations onboard. If you're in the mood for something more savory, check out Eatily. This modern but casual Italian Steakhouse features a boutique marketplace that sells high-quality Italian pantry staples so you can take part of your dining experience home with you. 
For more information about MSC Divina cruises out of Port Canaveral, as well as what hotel packages, transportation, and parking fellow cruisers are booking, click here.
Port Canaveral Cruise Tip
If you plan to book one of the best cruises from Port Canaveral, you're going to want to reserve the best pre and post arrangements to complete your vacation. Whether you're flying or driving in, Go Port has you covered with a variety of Fly Snooze Cruise and Snooze Park Cruise hotel packages, affordable cruise transportation options, as well as Port Canaveral cruise parking with transfers. After booking your cruise, visit goport.com to easily book a package that meets your travel needs.
Get the Inside Scoop from Go Port
Stay up-to-date with the latest Port Canaveral cruise news and travel tips!