Table of Contents
1. Navigating Port Canaveral
Port Canaveral, the world's busiest cruise port, is a vibrant hub inviting travelers to embark on memorable journeys. Situated along Florida's stunning coast, the port is both a gateway to the sea and a lively destination on its own. 
To fully enjoy this port's treasures, prearrange essentials like transportation. With numerous cruise enthusiasts heading here, securing transport in advance guarantees a smooth, stress-free trip.
Join us in this guide as we unveil the hidden gems and insider tips that will help you navigate Port Canaveral with confidence, ensuring that every moment of your adventure is met with wonder and ease.
Map of Port Canaveral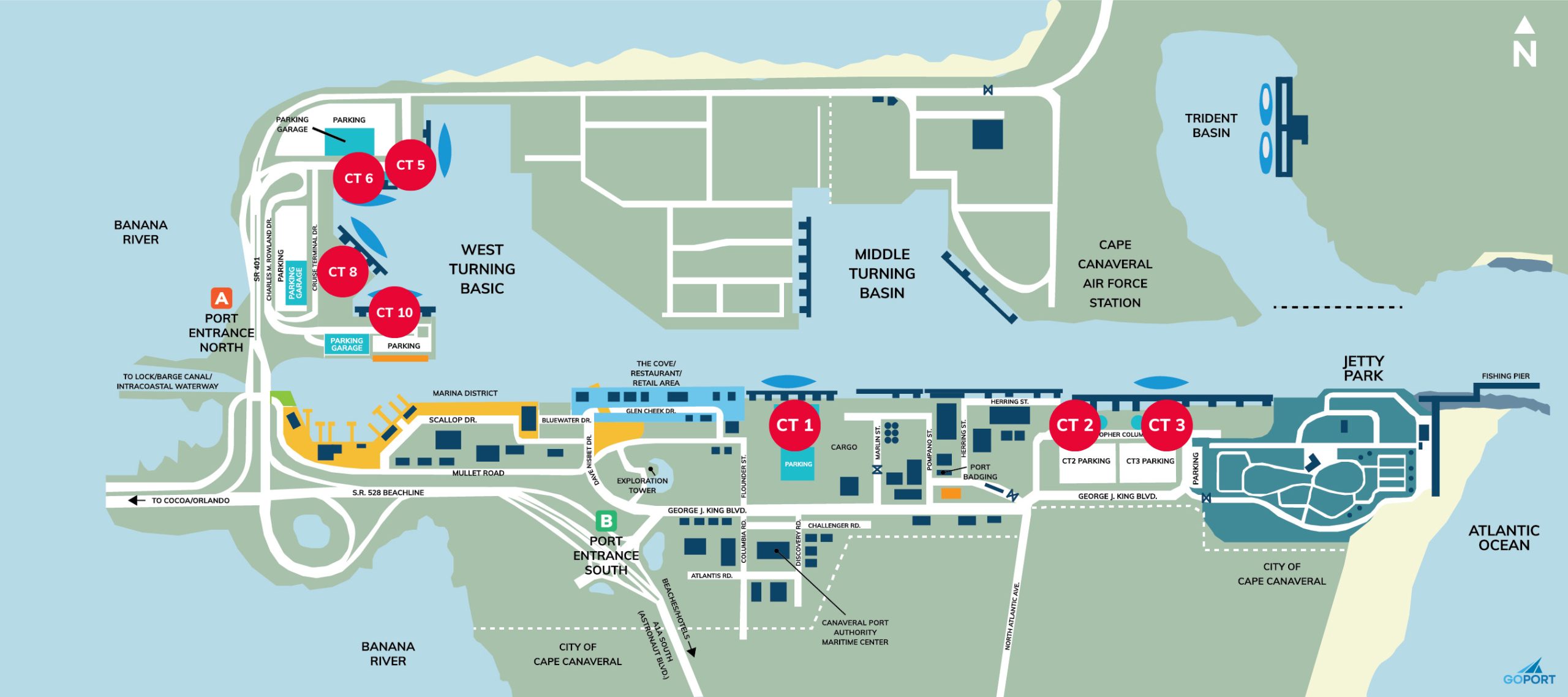 Cruise Terminal Locations
A Terminals   (North Side) – Exit 54A
B Terminals  (South Side) – Exit 54B

2. Luggage
Disembarking from a cruise ship with luggage can involve various methods to accommodate passengers' preferences and travel arrangements. Here are the types of ways you can disembark with luggage:
Self Disembarkation:

This choice lets passengers carry their own luggage off the ship, offering the fastest disembarkation. You control when you leave, making it great for those who can manage their bags and want an early exit.

Luggage Valet:

Certain cruise lines provide a luggage valet service. Passengers can check their bags on the last cruise night, and the cruise line delivers them to the final destination, like the airport. It's a convenient choice to skip hauling luggage during disembarkation.

Cruise Line Pickup:

Certain cruise lines provide a service to collect your luggage from your cabin the night before disembarkation and move it to the terminal area. This avoids carrying bags through common areas on the morning of departure. Keep in mind that this might add time and isn't recommended for early flight travelers.

Onboard Airline Check-In:

 

Several cruise lines provide onboard airline check-in. Passengers can check in for flights, get boarding passes, and even leave luggage at the terminal. This simplifies the process, letting you relax on your last ship day instead of worrying about airport check-in.
Every cruise line and port varies, so it's wise to confirm with your cruise line for specific disembarkation choices and processes. Select the method that suits your preferences and travel plans to ensure a smooth and worry-free disembarkation.
Should you carry the Luggage off yourself or have the cruise ship take it?
Choosing to carry your luggage off the cruise ship or letting the cruise line handle it depends on your preferences, plans, and the cruise line's offerings. If you prioritize convenience, control, and an early exit, self disembarkation is likely best. However, if you prefer a simplified process, more ship time, and possible luggage assistance to your final destination, using the cruise line's service might be more attractive.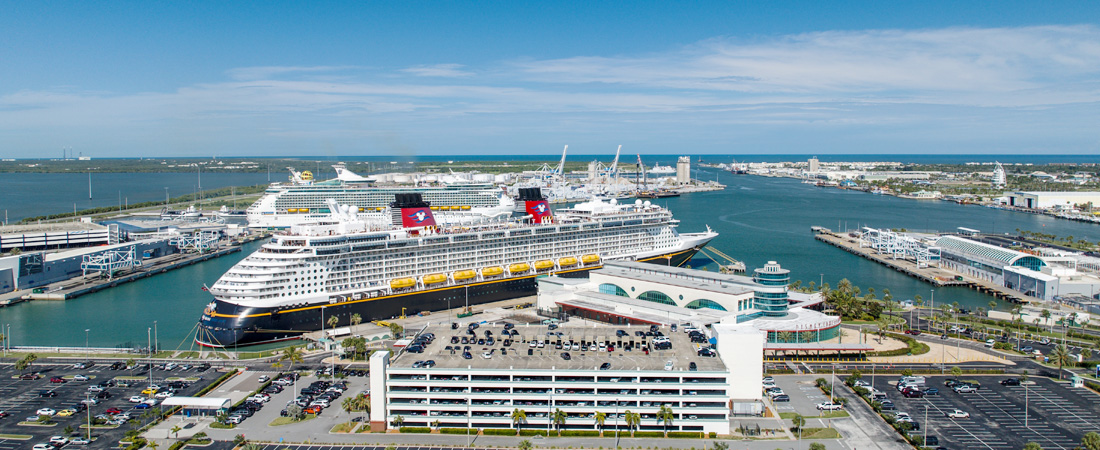 3. Cruise Ship Specific Disembarkation
The following is a guideline, but it's important to check the information provided by your cruise.
What time do I disembark?
Specific time for disembarkation from your cruise ship can vary based on a few factors: Cruise line policy, port regulations, cruise itinerary, and travel plans. Its important to plan accordingly to make sure you don't miss your flight or have any other travel mishaps.
Between 7:00 AM – 11:00 AM. Varies by ship.

Check out Royal Caribbean's Express Departure for early disembarkation.
Between 7:45 AM and 9:00 AM. Varies by ship. 

Check out Disney's Express Walk-Off option for early disembarkation. 
Between 8:30 AM and 10:15 AM. Varies by ship.

Check out Carnival's Express Debarkation to speed up the process. 
Between 7:00 AM – 10:00 AM. Varies by ship. 

Check out MSC's Express Walk-Off to speed up the process.
Between 7:00 AM – 10:00 AM. Varies by ship. 

Check out Norwegian Cruise Line's Early Disembarkation to speed up the process. 
How do I find out about the disembarkation procedures for my cruise ship?
To find out the exact time for your disembarkation, we recommend checking the information provided by your cruise line. This information is typically communicated to passengers either in the daily onboard newsletter, through announcements, or on the cruise line's website or mobile app. If you're unsure or need assistance, you can also inquire at the guest services desk onboard the ship.
4. What documents Do I Need to Get Off the Ship?
When leaving a cruise ship, remember your essential documents: the cruise key card for ID, a valid passport for customs, and visas for foreign ports if needed. Having a photo ID and completing customs forms helps. If flying post-cruise, keep your boarding pass ready. Requirements vary, so review instructions and ask the guest services desk onboard for help.
5. How long Does it Take to Disembark?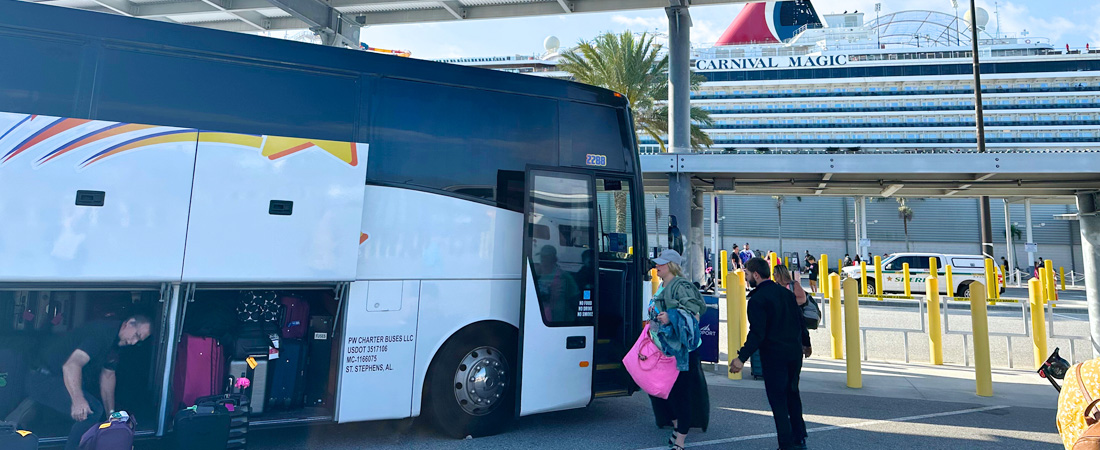 The time it takes to disembark from a cruise ship varies based on factors like cruise line procedures, chosen disembarkation method, the number of passengers, port regulations, and cabin location. 
While it can take several hours due to customs and immigration processes, larger ships, and staggered disembarkation groups, a general estimate is around 2 to 4 hours from the start of the disembarkation process to leaving the ship. It's important to follow cruise line instructions and assigned times for a smooth departure, especially if you have time constraints like catching a flight. We also advise you to pre-book transportation to your next destination to avoid the crowds at the port.
6. Customs and Immigration at the Port Canaveral
All guests are required to present themselves for inspection upon arrival in Port Canaveral. Passengers are required to fill out Customs forms and show their passports to border control agents.
7. Preparing for the Flight Home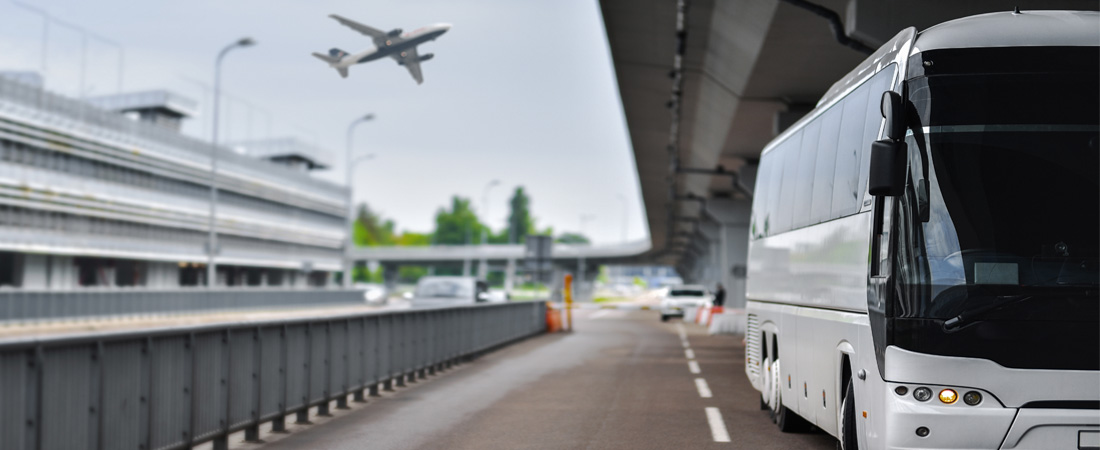 Preparing for your flight home after leaving a cruise requires a blend of organization and relaxation. Begin by checking the departure time of your flight and factoring in any travel time to the airport. Pack your belongings the night before, keeping essentials with you.
Ensure you have all necessary travel documents, including identification and boarding passes. If you've chosen Go Port's services, their efficient transportation solutions can seamlessly take you from the port to the airport, making your transition smooth and stress-free. Keep in mind the weather conditions at your destination and dress accordingly. By combining careful planning and a touch of relaxation, you can ensure a hassle-free journey home after your unforgettable cruise adventure.
Pro Tip: It's best to arrange transportation ahead of time to ensure that you arrive at the airport with plenty of time to get through security.

8. Transportation at the Cruise Terminal
Port Canaveral is the busiest port in the world, and that makes finding transportation last minute a bit stressful. Here's some information on the different options for getting back to your hotel or airport after your cruise. 
Does Uber/Lyft pick up at Port Canaveral?
Yes, but prices back to MCO start at $73 which doesn't include surge pricing and the cost for an UberXL, which is recommended for 3-4 passengers when traveling with luggage.
Because of the amount of people trying to book a ride from the Port, it can sometimes be very difficult to secure a ride. This can potentially cause you to be late to your return flight.
How much is a taxi from Port Canaveral?
There are taxis available outside for a hefty fee starting at $120. There is usually a long line of people waiting to secure a taxi. It can sometimes be stressful if you don't have transportation booked ahead of time.
What's the best cruise transportation option after debarking Port Canaveral?
We recommend pre-booking a shuttle to the airport or your hotel. Shuttles have a large storage capacity to accommodate any amount of luggage. Pre-booking a shuttle means you don't have to stress about finding transportation and can sit back and relax while reminiscing about your cruise. 
Go Port is Port Canaveral's #1 shuttle service. Their reliable transportation ensures timely and convenient transfers, allowing you to relax and relish the memories from your cruise. Go Port's dedication to a smooth journey extends past your ship, providing you with a worry-free way to return from your adventure after the port.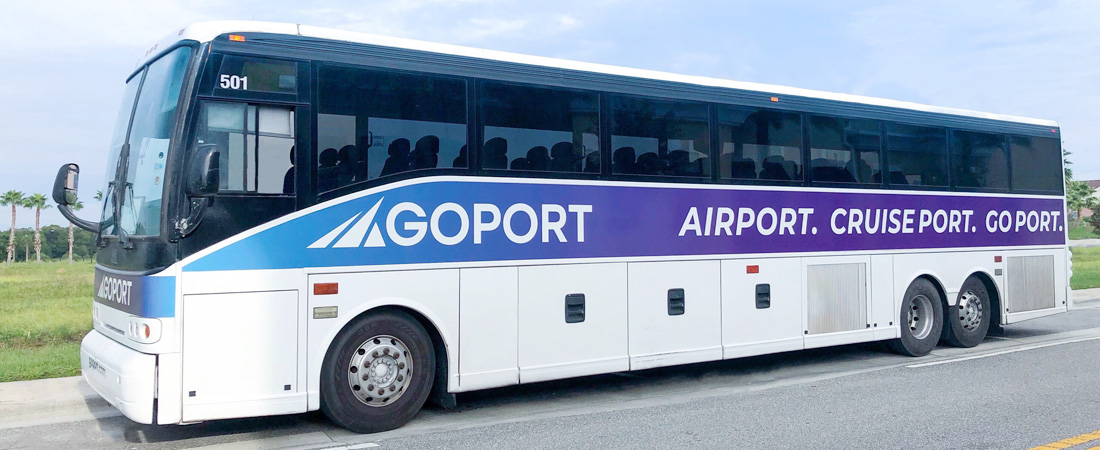 Debarking from Port Canaveral opens up a world of exciting activities. Whether you're unwinding on Cocoa Beach, exploring the Kennedy Space Center, or enjoying local dining and shopping, there's something for everyone. Thrills await at attractions like Exploration Tower, and serene moments on the Indian River cruise. Port Canaveral's surroundings cater to outdoor lovers, history enthusiasts, and relaxation seekers alike, enriching your cruise experience.
Close to Disney World and Universal Studios, Port Canaveral offers extended enjoyment. For an extra day of exploration, consider Go Port's Hotel Packages with port and airport transport. For more nearby activities, check our detailed blog.
10. Post-Cruise Stay in Port Canaveral or Orlando
If you're considering extending your cruise adventure with a pre- or post-cruise stay in Port Canaveral, there's no better way to ensure a seamless journey than by choosing a Fly Snooze Cruise package with Go Port. This all-in-one package combines airport transfers, hotel stays, and cruise transfers into a stress-free experience, offering both one-way and round-trip options. Say goodbye to the hassle of coordinating transportation separately—our Fly Snooze Cruise package takes care of it all. 
This package ensures smooth transitions between the airport, your hotel, and the cruise terminal. Enjoy Go Port's well-planned journey for a hassle-free experience in Port Canaveral. Your travel memories start and end effortlessly, letting you fully enjoy the Port's enchanting atmosphere.