Port Canaveral has made an impression on the cruise industry in recent years, earning the title "Best Cruise Port" by Global Traveler magazine in 2019. It's also the second busiest cruise port, with many exciting projects in the works. Considering its popularity, it's no surprise this Central Florida port is home to some of the greatest ships in the world. Here's a list of the top 5 Port Canaveral cruises to look out for in 2020:
1. Carnival Mardi Gras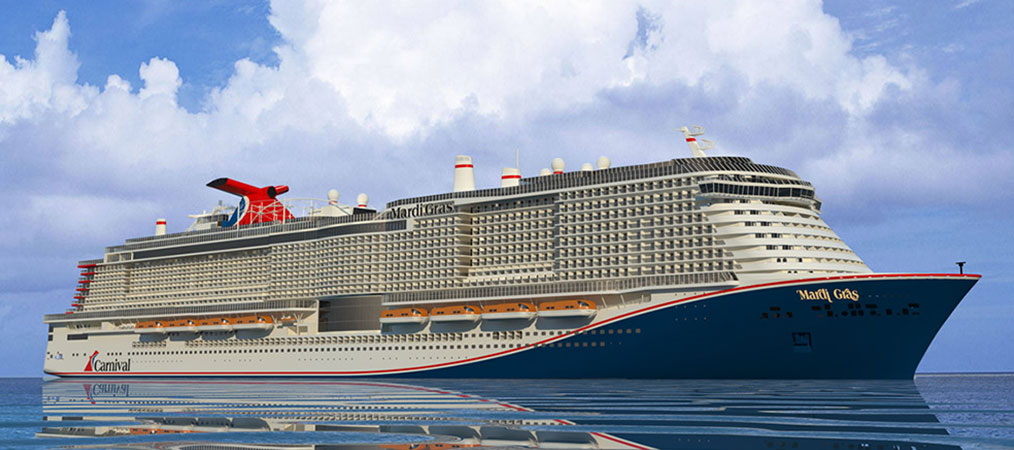 She may be named after Carnival's first ship, but the Mardi Gras is not like anything Carnival has done before. This XL-class ship will be Carnival's biggest ship yet, accommodating up to 6,500 passengers. Instead of typical bunker fuel, the Mardi Gras will run on liquefied natural gas (LNG), making her the most environmentally-friendly ship in North America. She'll also feature BOLT, the first roller coaster at sea, where guests can enjoy 360° views of the ocean across 800 feet of suspended track. Riders get to control the speed of their vehicle up to 40 mph, making it a fun activity for those looking to catch a thrill or just take it easy.
Carnival Mardi Gras will consist of six unique themed zones, with an array of dining experiences and mini-onboard excursions in each. These zones are: Grand Central, French Quarter, La Piazza, Summer Landing, Lido and The Ultimate Playground. Celebrity chefs represent multiple restaurants on the ship, ranging from Emeril's Bistro 1396 to Guy's Pig & Anchor Smokehouse Brewhouse. Carnival's Chief Fun Officer Shaquille O'Neal's signature restaurant, Big Chicken, will also make its debut.
The Mardi Gras will begin sailing from Port Canaveral in November of 2020.
For more information about the Mardi Gras, click here. 
2. Harmony of the Seas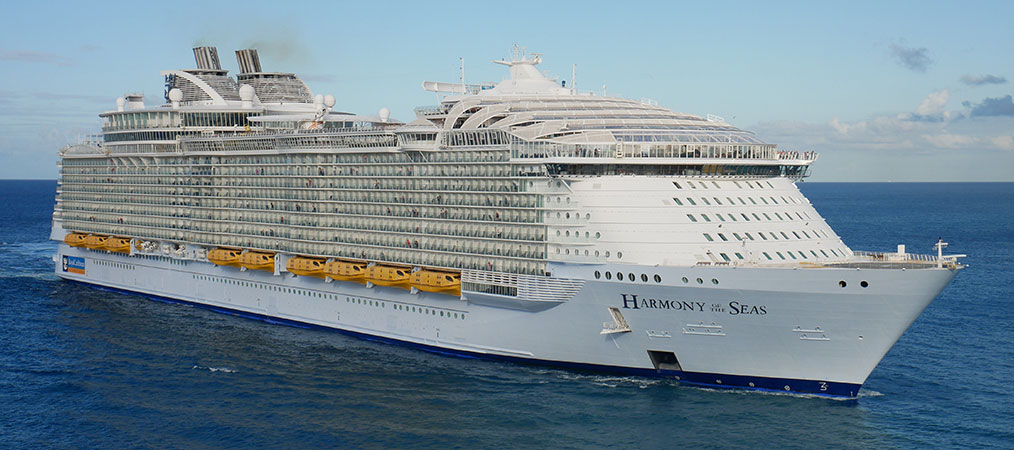 Harmony of the Seas began sailing in 2016 and remains one of the largest ships in the world. She was given the title "Best Cruise Ship" in Travel Weekly's 2018 Readers' Choice Awards. In addition to offering Royal Caribbean's classic surf simulators and rock climbing walls, Harmony of the Seas also has two kinds of slides onboard. "The Perfect Storm" water slides zoom riders through three stories of twists and turns. For a similar experience minus the splash, cruisers can try out "The Ultimate Abyss" instead.
Another spot worth checking out on the Harmony is the Bionic Bar, where two robotic bartender arms are on standby to assemble cocktails with laser precision. On top of that, Harmony of the Seas is Royal Caribbean's first Oasis-class ship to feature Jamie's Italian restaurant by British celebrity chef, Jamie Oliver.
When it comes to entertainment, the AquaTheater wows guests with breathtaking aerial shows on a trampoline and pool hybrid stage. But it's Harmony's itineraries that really amaze her passengers. She makes a stop at Royal's brand new private Bahamian island, Perfect Day at Coco Cay. At this tropical escape, you'll find the tallest waterslide in North America, the largest freshwater pool in the Bahamas, and a 459-foot high helium balloon ride.
If you're looking for a similar experience on a smaller scale, check out Mariner of the Seas — also sailing from Port Canaveral.

For more information about Harmony of the Seas, click here.
3. Disney Fantasy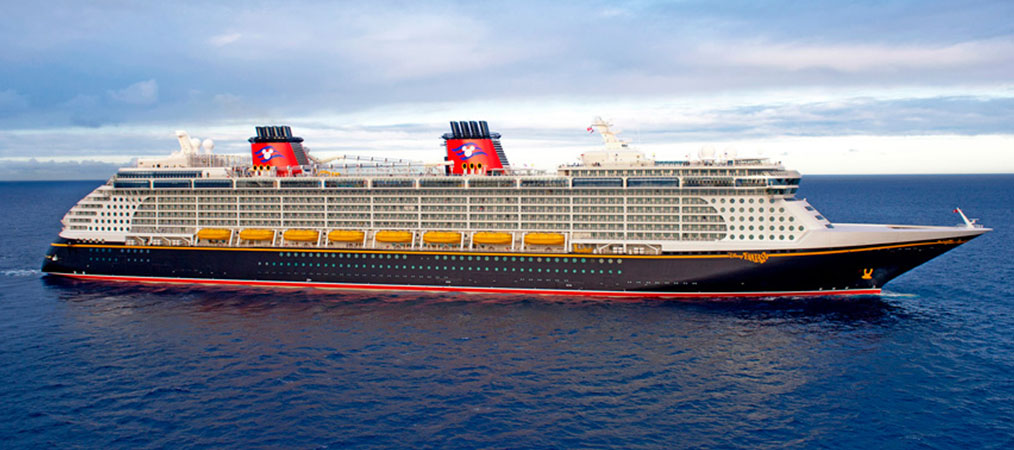 The Disney Fantasy has been sailing from Port Canaveral since her maiden voyage in 2012. On this luxurious ship, more than 85% percent of the cabins have an ocean view or balcony. She is actually Disney Cruise Line's newest ship, until the Wish takes the cake in 2022. Sprinkled with Disney magic in every detail, The Disney Fantasy provides kids and kids-at-heart with a vacation of a lifetime. A refurbishment in 2017 has kept this ship relevant, incorporating a Star Wars: Command Post and Marvel Super Hero Academy among other immersive experiences for 3-12 year olds in the Oceaneer Club.
The AquaDuck also keeps young cruisers occupied on the Fantasy. This Imagineer-developed waterslide propels participants through 765 feet of transparent tube — for a raft ride that is just as scenic as it is exhilarating. That isn't the only excitement on the pool deck. Disney Cruise Line throws deck parties like no other, giving guests the opportunity to sing, dance, and even gaze at fireworks with Mickey and his friends. Top-notch entertainment is to be expected on the Disney Fantasy as well. Live shows feature film-favorites like Aladdin and Frozen, with the tunes to match.
Though designed with families in mind, there are still plenty of places on the Fantasy for grown-ups to enjoy. Not only is the Quiet Cove Pool reserved just for them, but 6 bars and lounges and 2 restaurants are also adult-exclusive. There's also a Tiffany & Co. jewelry store onboard, where luxury accessories can be purchased as timeless souvenirs.
Another highlight on this ship is Disney's "Rotational Dining" style, which cycles guests through 3 unique venues each night while maintaining the same server.
The Disney Fantasy offers week-long cruises, so if you're looking for a similar experience ranging from 3-4 days, check out the Disney Dream.
4. Norwegian Escape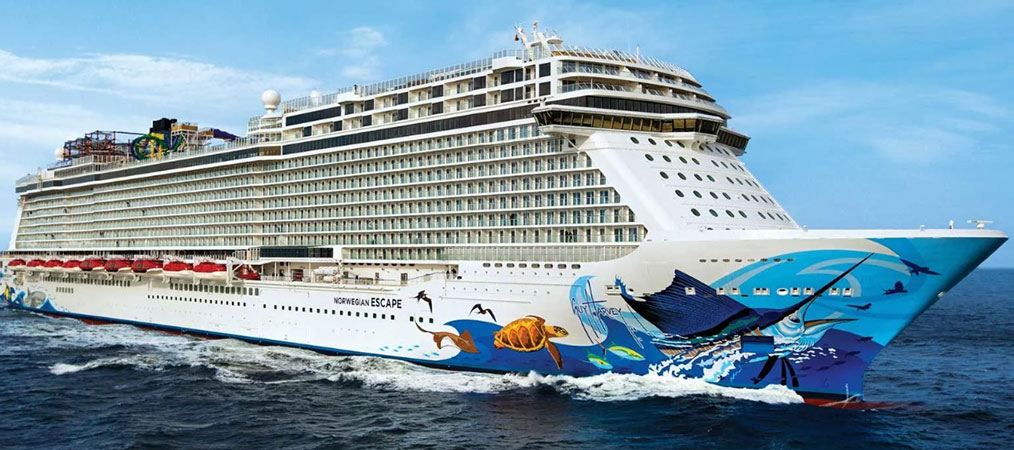 Voted "Ship of the Year" by Ocean & Cruise News in 2017, the Norwegian Escape is a state-of-the-art vessel with diverse accommodations and one-of-a-kid components. She launched in 2015 with the capacity to hold up to 4,266 passengers — making her one of Norwegian Cruise Line's biggest ships yet.
Besides offering a wide range of staterooms for couples and families, the Escape also welcomes solo travelers. Studio rooms include access to an exclusive lounge, where complimentary refreshments can be enjoyed with neighbors throughout the day.
Dining on the Norwegian Escape is exceptional, with more than 25 spots to grab a bite and 14 bars and lounges onboard. Indulge in fusion cuisine at Food Republic, or let Iron Chef Jose Garces' menu at Bayamo satisfy your seafood cravings. Many of the Escape's best restaurants can be found while strolling down The Waterfront — a quarter-mile oceanside promenade lined with open-air seating. More foodie highlights include two Jimmy Buffet venues: the first-ever Margaritaville at Sea and 5 O'Clock Somewhere Bar. Looking to sip and socialize? Norwegian's first wine bar, The Cellars, and the District Brew House are your best bet.
There's no limit to the amount of activities on the Escape. The Aqua Park onboard is among one of the biggest at sea, complete with four water slides. For a drier alternative, zip through the 3-story Ropes Course, also the largest in the industry. Daredevils can even "walk the plank" just for bragging rights.
5. Carnival Radiance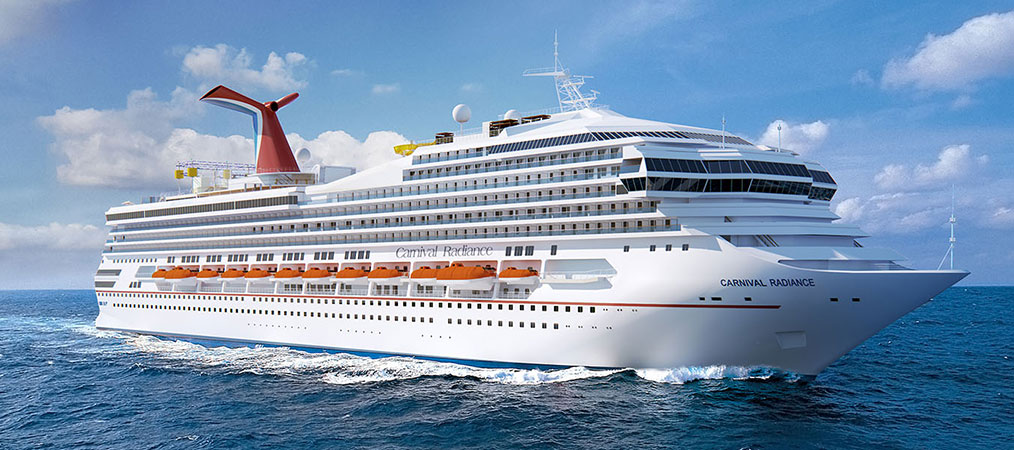 Formerly known as the Carnival Victory, the Carnival Radiance is sure to live up to her name after undergoing a $200 million makeover. This is perhaps one of the most expensive cruise ship renovations ever — incorporating enough changes to warrant an entirely new name.

In addition to revamping existing cabins, the dry dock session will welcome more than 100 new cabins, as well as multiple food and drink venues. Many of these same venues will be on the Mardi Gras, which is also setting sail in the late fall. Some of the most anticipated dining spots include: Guy's Pig & Anchor Smokehouse Brewhouse, Guy's Burger Joint, and Big Chicken (Shaq's restaurant), all of which are included. As for drinking locations, the tropical-themed BlueIguana Tequila Bar and the RedFrog Pub are expected to be quite popular among the 21+ crowd.

The Carnival Radiance's transformation will also introduce more onboard activities for kids of all ages to take advantage of, like Carnival's beloved WaterWorks waterpark, SkyCourse ropes course, Build-A-Bear Workshop, and a high-tech video arcade. Adults will also benefit from the Radiance's upcoming changes, thanks to the Serenity outdoor retreat and 15,000-square-foot spa.
Sailing from Port Canaveral? After booking your cruise, let Go Port take care of the rest! We'll take care of your hotel accommodations and transportation plans, so you can set sail stress free. 
Get the Inside Scoop from Go Port
Stay up-to-date with the latest Port Canaveral cruise news and travel tips!