Perfect Day at CocoCay, formerly Little Stirrup Cay, is Royal Caribbean's private island jam-packed with adventure, relaxation, and culinary delights. Nestled in the shimmering turquoise waters of The Bahamas, this private island exclusively welcomes Royal Caribbean guests to a day like no other. Here's the lowdown on what makes CocoCay truly 'Perfect.'
What is 'Perfect Day at CocoCay?'
CocoCay is almost an extension of your cruise experience, an island made to be a giant playground with food and drinks – a haven only for Royal Caribbean cruisers. Similar to any port your cruise ship visits, the ship will dock there and you decide whether you want to get off to explore or stay on. 
How Do You Get Around CocoCay?
Travel on Coco Cay is by foot along pathways. They're hard-packed and well-marked, so it's hard to get lost. It should be pretty easy to find your way to any one of the five beaches, four pools, or seven bars on the island. There are also complementary trams to keep an eye out for around the island.
Is Everything Free at Perfect Day at CocoCay?
Perfect Day at CocoCay has no entrance fee. Most of the island's offerings are complimentary, like the beaches, pool, and food; so you can walk around for free or hop on the complimentary trams that shuttles around the island with stops every 15-minutes. Other free amenities are poolside loungers, beachside chairs, umbrellas, showers, changing rooms, and restrooms.

Guests can swim at Harbor Beach, hang out at Oasis Lagoon, play at Splashaway Bay, or explore the island's nature trails at no extra cost.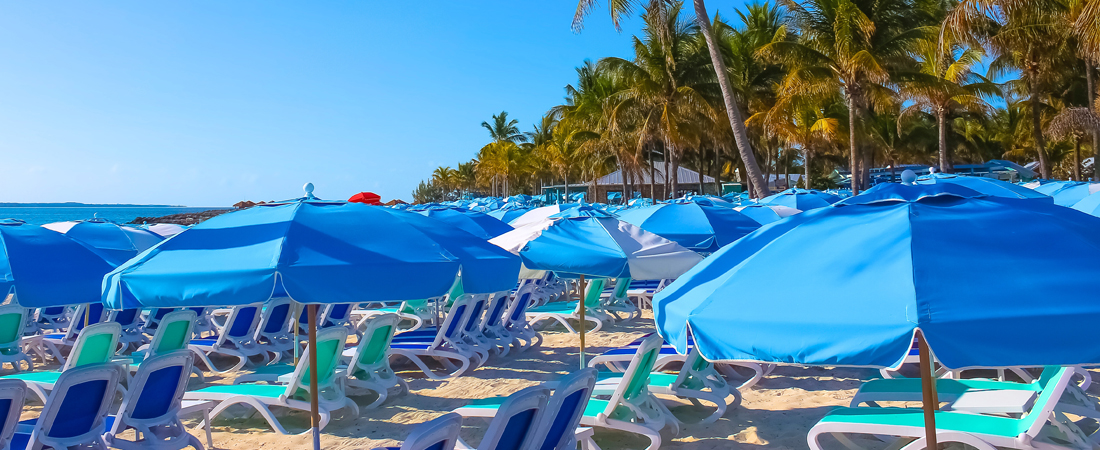 How Long Do You Spend at CocoCay?
You'll have around 8 to 10 hours to explore it all. You can even return to the ship and go back out to the island any time all day. Being on a ship is like staying on a beachside hotel.
Do you Need a Passport to Cruise to Perfect Day at CocoCay?
Royal Caribbean cruisers don't need a passport to visit Perfect Day at CocoCay in the Bahamas since it is a "private" island. However, guests are required to follow their cruise itinerary.
Things to do at Perfect Day at CocoCay
Coco Cay offers activities that cater to everyone, from adrenaline junkies to serenity seekers.
Adventure Seekers: Thrill Waterpark is your adrenaline hub. Conquer Daredevil's Peak, the tallest waterslide in North America at a whopping 135 feet. Battle the tide at the Caribbean's biggest wave pool, spanning an impressive 33,175 square feet.
Families: Splashaway Bay is the ultimate playground for kids and kids at heart. Enjoy fountains, pools, sprinklers, geysers, water cannons, and five waterslides, including the 38-foot tall Twister waterslide. Harbor Beach is also a family-friendly and calm lagoon waters, ideal for a relaxing swim. Keep the hunger at bay with a nearby food truck offering a variety of snacks.
Relaxation Enthusiasts: Sink into tranquility at Oasis Lagoon, the Caribbean's largest freshwater pool that covers 33,000 square feet. It features an underwater sound system and a swim-up bar. For a more secluded retreat, rent a cabana on Chill Island, where white sand beaches meet crystal clear waters.
Snorkeling Lovers: The best spot for snorkeling is also Chill Island where you can explore the marine life, unwind in beachfront cabanas, or simply soak up the sun.
Water Sports Fans: South Beach is an action-packed beach that offers volleyball, beachside basketball, paddleboarding, glass-bottom kayaking, and even a floating bar.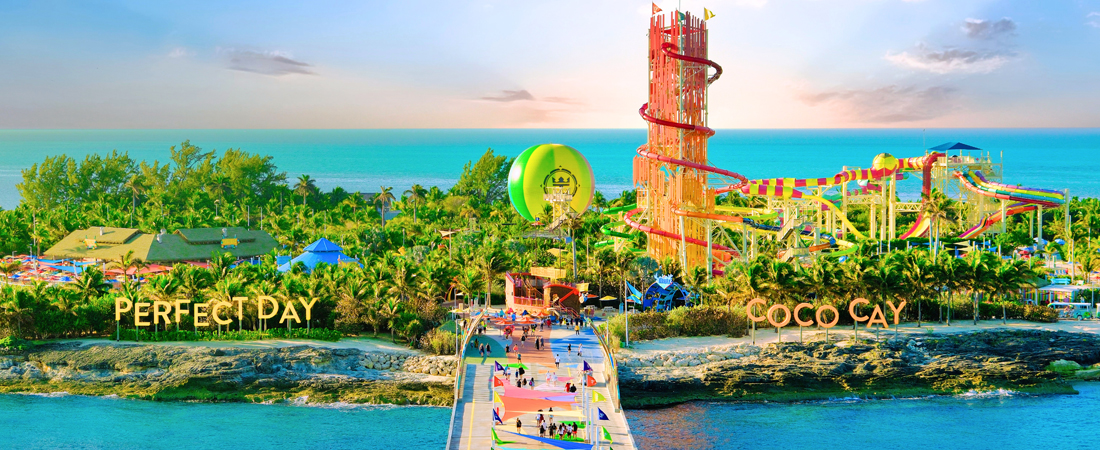 What is Hideaway Beach at CocoCay?
Adding to the allure of Coco Cay is the upcoming opening of Hideaway Beach later this year. This exclusive beach escape will feature a variety of amenities including private cabanas, beachside service, and water activities like snorkeling and paddleboarding. With a capacity for an additional 2,500-3,000 guests, Hideaway Beach is set to welcome its first visitors in time for the Icon of the Seas sailing in January 2024. Pricing details for Hideaway Beach amenities, such as cabanas, will be released soon.
Is There a Free Beach at CocoCay?
Perfect Day at CocoCay has 3 free beaches: Chill Island, South Beach, and Harbor Bay. Located on the left side of the island, Chill Island offers a sandy beach, as well as its own beachside barbecue. South Beach is on the right and all the way across the island from the pier. The Harbor Bay beach is a smaller beach at the center, the first beach you will see as you exit the Cococay port – with lots of chairs and umbrellas.
Pro tip: Get off the ship as early as possible so you have more options for beach chairs. This is important if you want a spot in the first or second row.
Restaurants at Perfect Day at CocoCay
Savor the flavors of Coco Cay. Casual dining options at Snack Shack include Bahamian conch salad and funnel cake. For a sit-down meal, head to Skipper's Grill for BBQ chicken, tacos, and salads.
Looking for a local flavor? Captain Jack's serves island-style wings and a signature dish, the crispy 'Cracked Coconut Shrimp.' Pair it with the island's signature Coco Loco cocktail for the perfect beachside indulgence.
You can eat in if you like, but you would probably enjoy the atmosphere more if you found one of the many shaded picnic tables that are available to eat at.  You'll encounter a crowd if you dine late, so try to get to one of the dining venues early.
Is Food Included at Perfect Day at CocoCay?
A number of restaurants on the island, like Snack Shack, offer complimentary meals, while others, like Captain Jack's, charge extra. Guests who purchased Coco Beach Club admission are entitled to more elevated eats included with this entrance fee.
How Many Snack Shacks are There in CocoCay?
At CocoCay, Snack Shack is probably the most convenient complimentary dining option. There are 3 locations on the island: one on South Beach, one at Thrill Waterpark, and one by Oasis Lagoon.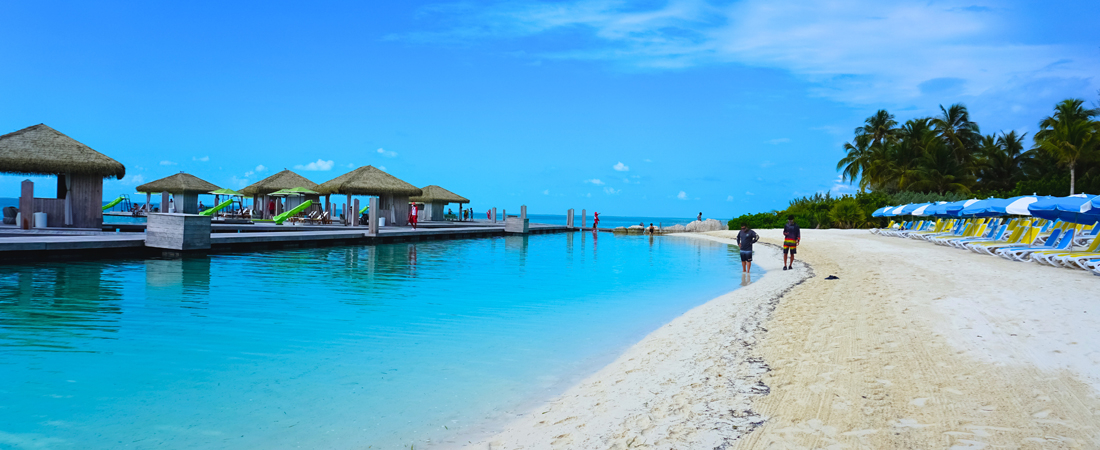 Bars at Perfect Day at CocoCay
Try one of the Cay's signature Coco Loco mixed drinks at anyone of the seven bars on the island. Dive into the party at the Oasis Lagoon Swim-up bar. Whether you're lounging at shore or snorkeling at sea, you're never a sip too far with The Floating Bar at the crossroads between beaches. Wacky Seagull is a quick cocktail and beer spot, and its younger peer Wacky Seagull Jr. is over by Chill Island.
Does the Drink Package Work on Perfect Day at CocoCay?
Good news! The Drink Package works on the island. You can enjoy your vacation favorites for free with the specialty beverage package purchased for your cruise.
Is There an Adults Only Section at CocoCay?
The newest CocoCay expansion, Hideaway Beach, will be exclusively an adults-only retreat – coming soon later this year. 
CocoCay for the Kids
The attraction you'll find hard to miss when you first arrive at Cococay pier is Captain Jill's Galleon, the huge pirate ship. Small kids can climb aboard this ship, glide down the slides, and spray water out of the ships' cannon to cool off. Splashaway Bay is a great water playground for young kids featuring small slides, fountains, and tipping buckets. More water fountains can be found at one end of the Oasis Lagoon. The hot air balloon rides on the island are free for children ages 0 to 3.
Do I Need Cash at CocoCay?
You will need your SeaPass card to pay for drinks, rent equipment, or enjoy excursions on the island. You'll also need to bring cash (USD) if you plan on picking up souvenirs at the island market. The SeaPass card is also accepted as payment until 2:30 PM at the market. It's required to get back on board the ship so bring it with you, keep it with you, and don't lose it.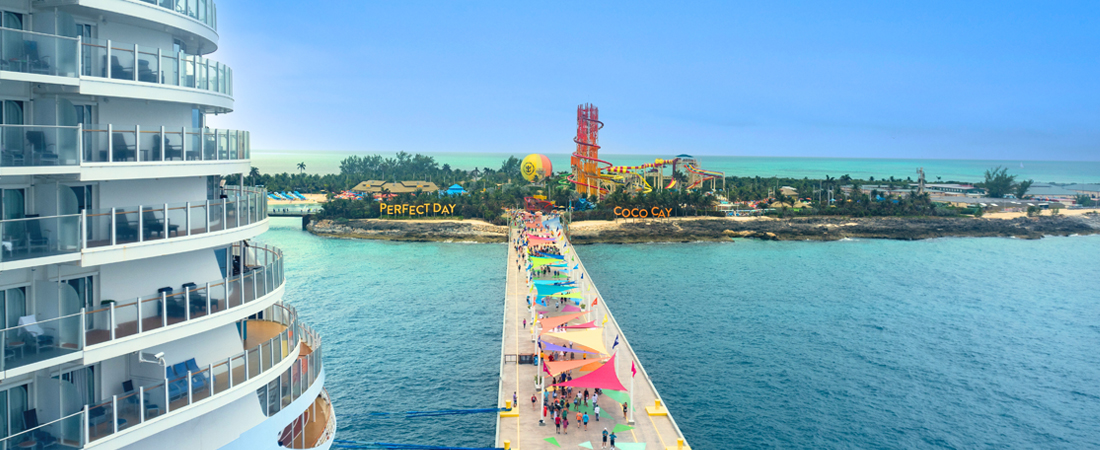 A waterproof camera is a good idea to record your adventures. Above all else though, remember to have fun.
We hope you enjoyed this guide to enjoying Coco Cay. Before you cruise make sure you don't make these mistakes when booking cruise transportation.
Welcoming over 50,000 visitors each month, Coco Cay is a beloved destination that promises a truly perfect day. It's also important to start planning a hotel stay and transportation to complete your cruise vacation. Compliment your next Royal Caribbean cruise with a Go Port package and let us take care of everything ashore.  As the #1 land-travel provider offering a range of cruise shuttle packages from both the Orlando Airport as well as a variety of nearby hotels to Port Canaveral. Cruisers flying in who also need a hotel stay can book a Fly Snooze Cruise package that includes accommodations and all your necessary transportation for one low rate. Go Port's hotel and cruise transportation packages will be available to reserve online up to a year before your sail date.